Browse, watch, read, and learn more.
Helpful information for patients with invasive breast cancer.
FAQ
When should the Oncotype DX® test be used for DCIS patients?
What is the difference between genetic tests (eg, BRCA1 and BRCA2) and genomic tests like the Oncotype DX test?
What differentiates the anatomic stages of breast cancer? How does this affect my eligibility?
What does it mean for my cancer to be HR-positive or HR-negative?
How long will it take to get the results of the test?
Is the Oncotype DX test covered by insurance?
DCIS (Stage 0) Breast Cancer and the Oncotype DX DCIS Score result?
Do you know your Oncotype DX Breast DCIS Score
®
result?
Meet Jen — DCIS Score result: 42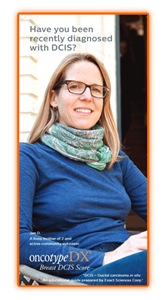 $0
financial responsibility for DCIS Score test when Medicare fee-for-service (FFS) coverage criteria are met
Medicare Advantage, which is provided by commercial insurance companies, may have different financial responsibility compared to Medicare FFS.
Learn about costs, coverage, and how Exact Sciences can help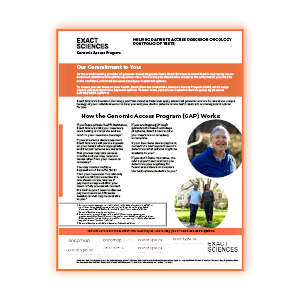 *Testing performed at an Exact Sciences clinical lab in Redwood City, CA (Genomic Health, Inc.).