

Advanced Solid Tumors
OncoExTra™ test
Don't miss half the genomic story. Personalize your advanced cancer care with ultra-comprehensive genomic profiling.
Interrogating both DNA and RNA, the OncoExTra test provides ultra-comprehensive genomic profiling that thoroughly detects clinically actionable mutations and fusions.1
It delivers the all-encompassing genomic insights of whole-exome (DNA) and whole-transcriptome* (RNA) sequencing, highlighting key information that is critical to personalized cancer care.
The OncoExTra report:
putting a spotlight on what matters most
The easy-to-interpret report highlights the most actionable insights first for timely, shared decision-making:
Mutations and fusions

associated with FDA-approved therapies deliver a comprehensive genomic picture†

Immuno-oncology signatures (TMB/MSI)

support personalized therapy selection

Clinical trial options

to help inform next steps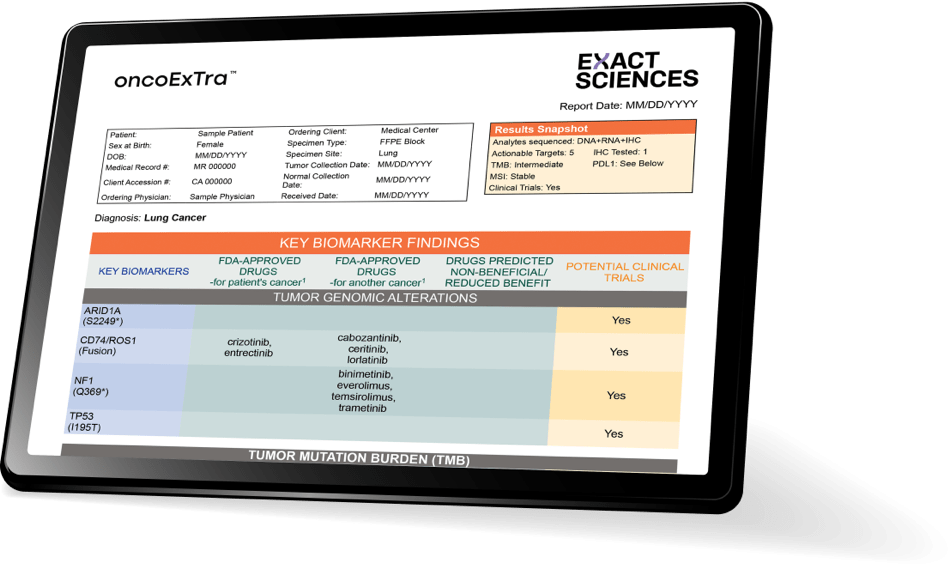 †The OncoExTra test is not an FDA-cleared or -approved IVD device or companion diagnostic for the referenced biomarkers and FDA-approved therapies
*Whole-transcriptome with select variants reported in New York State
Uncover more variants. Find more useful targets.
Ultra-comprehensive genomic profiling interrogates both tumor DNA and RNA1
Broad and deep sequencing coverage accurately detects mutations, rare fusions, and transcript variants1
Patient-matched tumor-normal sequencing uncovers benign mutations1
Optional immunohistochemical (IHC) panels and single stains provide an added level of detail‡
The OncoExTra test may be right for
your patient whose cancer is:
Advanced or metastatic
Unresponsive to treatment or recurrent
Rare
Aggressive
‡IHC testing not currently available in New York State
MSI, microsatellite instability; TMB, tumor mutational burden